About us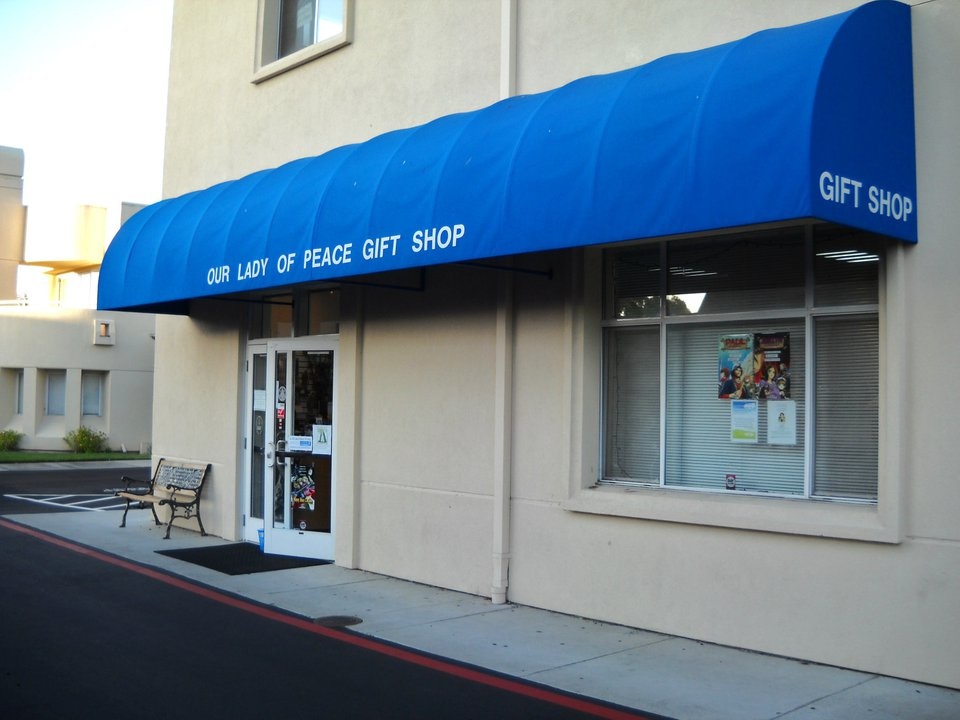 (updated 7/1/21)
We continue to be open:
Tuesdays, Thursdays, and Saturdays, 1pm-6pm *ONLY*

We continue in the Summer of 2021 with limited staff members for all web & in-store sales/ordering/inventory management etc. so your patience & understanding as we continue working to expand from here in the year ahead is greatly appreciated. (This is also why there are not more items yet on the webstore, we will have a full-time webstore staff member beginning in August 2021!)
We appreciate everyone's patience as we struggle to reopen fully! 
(to visit the Shrine main website click here: https://www.olop-shrine.org/)
Promoting the true, the good, and the beautiful for over 30 years

Our Lady of Peace Gift Shop started out in 1985 as a table with books and religious items set up in the hall adjoining the sanctuary. In the decades since it has grown into a full service, one-stop shop for hand selected books, statues, art, rosaries, scapulars, sacramental gifts, and a large selection of CDs and DVDs. Our extensive book selection includes Bibles, Catechisms, Missals, Apologetics, Family issues, Theology of the Body, Lives of the Saints, Theology, Children's books, Literature, Prayer, History, Philosophy, Bioethics, and much more.
Normally open 7 days a week, Our Lady of Peace Gift Shop is located on the north corner of the Family Learning center across from the rectory. It is easily located by the blue awning above the store entrance.
Using the covid-19 downtime we finally were able to build this new webstore which launched in June 2020. 
As this is a new venture for us we want to thank you in advance for your patience as we smooth out any rough edges in the webstore layout and/or fulfillment operations.
We began with adding new & bestselling books, Our Lady of Peace custom items, seasonal selections, and other items we already have in stock first, and will be adding more products as we have the staff & resources to continue.
It is our hope to also make clerical and liturgical items available for sale and new products will continue to be added, please check back often for additional items!
Thank you for visiting and God bless you!
Please note: The large, blessed votive candles in glass are no longer available in our gift shop, instead they are currently available about 40 feet back from the main entrance to the church, with a box there to leave your donation for the church (checks can be made out to Our Lady of Peace Church) -- this has been frustrating for many who are used to picking them up by the box in our gift shop to take home (they were originally intended for visitors to the shrine to light in the church) & so to accommodate the demand we have made a large selection of candles, including 100% beeswax (& more coming) available for home use here on our webstore -- all candles purchased here can be selected to be blessed by a priest of Our Lady of Peace before shipping or being picked up curbside-- if picking up please allow 3 days in between order & pickup to make sure we are able to have them blessed & ready to go when you arrive.